"Coping with a missing loved one is traumatic and overwhelming. We want families to know that they are not alone."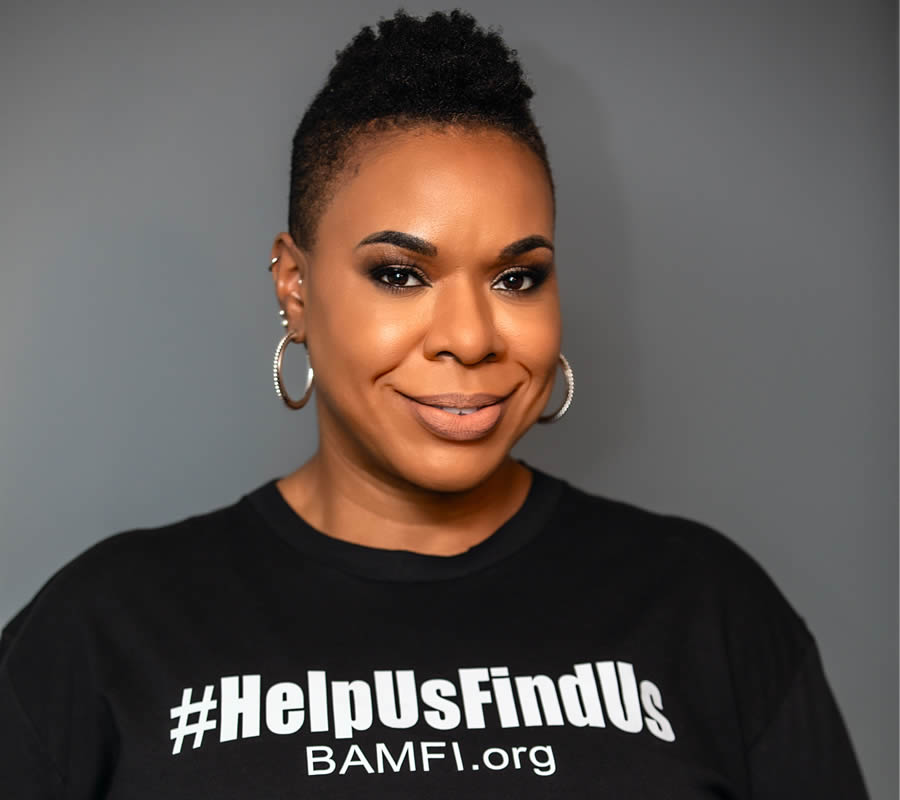 I appreciate your quick response. Black & Missing Foundation was the only one that participated in the search for my daughter. Black & Missing Foundation gave my daughter social media attention and the attention that my daughter got just made me cry. Black & Missing Foundation does respond, does listen, does care and was there. Thank you for all your great help and what you did for my daughter. I give Special Thanks To Derrica N. Wilson, Co-Founder and CEO.
---- LETITIA SPRATT (MOTHER OF MISSING CHILD)
Derrica Wilson
Co-Founder and CEO
Derrica Wilson is the co-founder and CEO of the Black and Missing Foundation, Inc (BAMFI). She is a trailblazer who brings more than two decades of expertise in law enforcement and public safety, including serving as the first black female officer with the City of Falls Church Police Department. Derrica is also a certified human trafficking investigator.
Recognized for her achievements in helping and bringing hope to the families of the missing, Derrica has been featured on The View, Essence, People, The Daily Show, InStyle, Good Morning America, and CNN to name a few, for her outstanding advocacy and activism work. Derrica's work has been documented in HBO's award-winning documentary, Black & Missing. Furthermore, she is the proud author of the children's book 'Finding Sierra' which sheds much-needed light on the dangers youth face daily.
Derrica is a NOBLE Sealy Award Recipient, BET Black Girls Rock! Community Change Agent Recipient, City of Falls Church 2022 Women's History Honoree, 2022 CrimeCon's Crime Fighter of the Year Recipient, 15th Television Academy Honoree, 2022 Ebony Power 100 Honoree, and named among the 2022 Root 100 Most Influential Black Americans for activism/justice.
She is also the Founder & CEO of RLD Limited Group. Through RLD, she offers law enforcement consulting, and human trafficking training opportunities. Derrica also serves as a National Security and Public Trust Background Investigator for the federal government.
A native of Spartanburg, South Carolina, Derrica graduated from the Northern Virginia Criminal Justice Training Academy. She is also a member of the National Organization of Black Law Enforcement Executives (NOBLE), and the National Organization of Black Elected Legislative Women (N.O.B.E.L. Women).
She lives in Maryland with her family.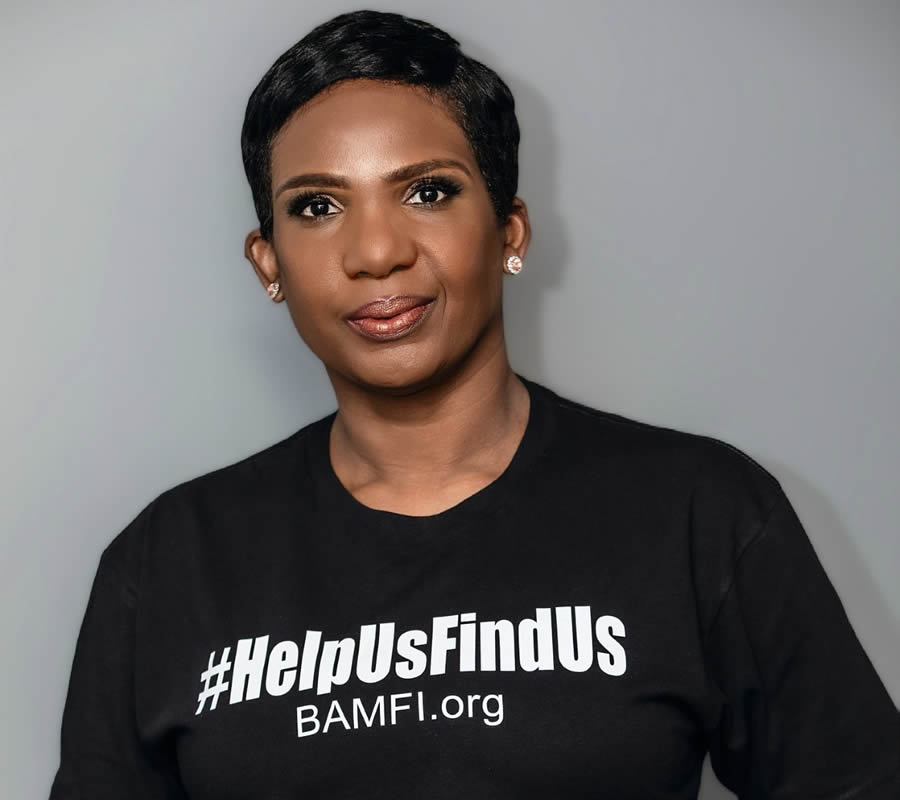 Natalie thank you so much for your help in the search to find Teleka. We would not have been able to spread her story far and wide without your help. We are forever grateful. May God continue to bless you, your family, and your work to find our missing.
---- LOVE, THE PATRICK FAMILY
Natalie Wilson
Co-Founder and Chief Operating Officer
Natalie Wilson is the co-founder and chief operating officer of the Black and Missing Foundation, Inc (BAMFI). With two decades of experience in public and media relations, Natalie is involved in all aspects of BAMFI's operations, including the development and execution of strategic outreach and PRess to ensure coverage of the foundation's mission and initiatives.
Natalie knows the power and reach of media coverage as highlighted in the award-winning HBO docuseries, "Black and Missing." She has garnered local, national and international media coverage with platforms, such as The Daily Show with Trevor Noah, The View, Associated Press, CNN, Essence, Fox 5 DC, Huffington Post Black Voices, NPR, Oxygen.com, People, The Root, The Grio, Oprah Daily, New York Times, and the Washington Post, which continue to keep the issue of missing and exploited persons of color in the forefront.
Education:
Howard University, Bachelor of Arts in Psychology
Trinity University, Master of Arts in Communications
Harvard Business School Executive Education, Strategic Perspectives in Non-Profit Management
Awards and Honors:
Black Girls Rock! "Community Change Agent"
L'Oréal Paris "Women of Worth" Honoree
Inaugural CrimeCon "Crime Fighter of the Year"
15th Television Academy Honoree
2022 "Ebony Power 100" Honoree
2022 "The Root 100" Most Influential Black Americans for Activism/Justice
Professional Affiliations:
National Association of Black Journalists (NABJ)
ColorComm
Natalie is also the founder of a boutique public relations agency, NWR Communications Group, which provides nonprofits, foundations and businesses with a social justice platform, diversity, equity and inclusion (DEI) and true-crime element, gain visibility for their cause through publicity and social media strategies.
She resides in Washington, DC with her family.